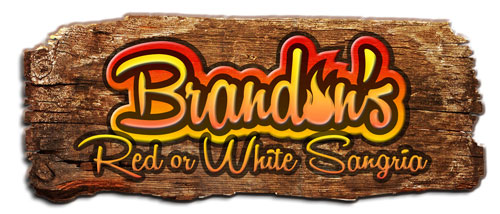 Brandon's Red or White Sangria
This Superb Summer Cooler is made with your
Glass

choice of Red or White Wine and is a great Drink

Carafe 

to Share with Friends. Fresh Fruit and Secret Ingredients guarantee Pure Perfection!

Sangria is a typical beverage from Spain and Portugal. It normally consists of wine, chopped fruit, a sweetener, and a small amount of added brandy. Chopped fruit can include orange, lemon, lime, apple, peach, melon, berries, pineapple, grape, kiwifruit and mango. A sweetener such as honey, sugar, syrup, or orange juice is added. Instead of brandy, other liquids such as Seltzer, Sprite or 7 Up may be added. The use of the word sangria in labels is now restricted under European law. Only sangria made in Spain and Portugal will be allowed to be sold under that name after the European Parliament green-lighted new wine labeling in January 2014.